Nature Blog#13
Welcome to Doreyl's
Backwoods Nature Blogging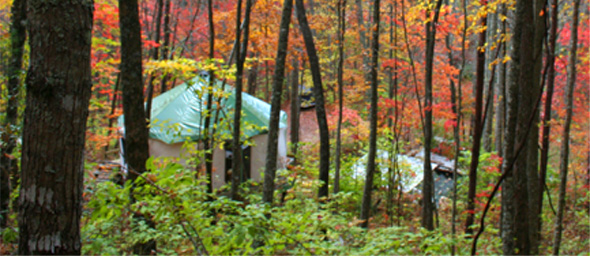 Hiking in the Glory of Autumn by Doreyl Ammons Cain
In October the blue smoky mountain ranges are painted vivid shades of red, orange, yellow and green. Driving down the Blue Ridge Parkway the long range 365 degree view of the colors of Autumn saturates and overwhelms the senses. But this remains a distant view. An experience of even greater inspiration is a hike through the glories of Autumn.

Living in the woods at Nature's Home Preserve across from Bear Lake in Little Canada, my husband Jerry & I reside within a kaleidoscope of Autumn colors. Swirling, flying leaves take wing and fall on an earthen floor already laid with nature's leaf patch work designs. Walking through this color odyssey opens up a feeling of awe for nature's works.

Within the last four years we laid out, cleared and cut three adventurous hiking trails to explore the colors of Autumn. The first trail we completed, the Big Pine Trail, is lined with pink & white Mountain Laurel blossoms in the spring and changes to brilliant reds of Maple & Sourwood leaves and greens of Mountain Laurel bushes & large White & Yellow Pine trees in the fall. A spur off this trail takes you to a bench where a clear view of Bear Lake can be seen.

The High Poplar trail, completed in our second year, is a high ridge trail dominated by tall Tulip Poplar trees. Other old growth trees embracing this ridge trail include Oak, Sourwood, Paper Birch, Balsam and Hickory. In October lavender wildflowers mixed with huge green ferns complete the fall palate of warm apple, orange and banana colors. The High Poplar trail journeys up Foster's Knob and down near Cedar Valley, then up again to Moonshine Gap. You can stop here for a game of horseshoes.

In our third year the Cliff trail was born. We labored for a whole year to birth this one. The most adventuresome trail of all, the Cliff trail leads the avid hiker around and up a mountain to the top of a towering cliff that overlooks Bear Lake and Cedar Creek Lake. The view is as spectacular as the foliage and trees along the way. You can sometimes come face to face with an Eagle or Hawk riding the wind currents which swirl around the impressive rock face of the cliff.

Something to remember when hiking in the fall is a bag for gathering leaves and other found objects. My sister Amy never hikes Nature's Home trails without her bag. She finds Native American arrow & spearheads, mosses and interesting foliage of all kinds to use for arts & crafts and holiday decorations. Who knows what treasure you might find along the way.

Autumn in the mountains is a time for saying farewell to the greens of summer and hello to the cool days ahead, a bitter sweet season. The festive colors celebrate a year well spent as time begins to slow down for rest in the winter months ahead. Viewing the glories of Autumn up close while hiking through the tree tunnels of color can be the best experience of the entire year. So why not take some time off and enjoy a hike in the backwoods!

These stories and articles are copyrighted and may not be reproduced in any form electronically, digitally, printed matter or by any other means without written permission from the author, Doreyl Ammons Cain.
Copyright &copy Doreyl Ammons Cain 2016-2099