Nature Blog#14
Welcome to Doreyl's
Backwoods Nature Blogging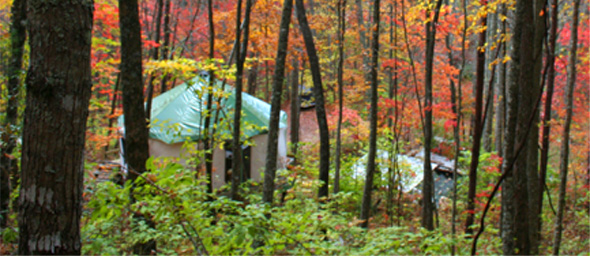 Preparing for Winter by Doreyl Ammons Cain
When squirrels start collecting acorns and you see their brown nests towering in brightly colored trees, you know winter is close. In the woods here at Nature's Home Preserve, blue sky begins to peep through drifting leaves and the dark starkness of tree trunks. In a flash you see gaggles of geese turn the sky grey.

Sounds around Nature's Home change as the trees become bare. The motor vehicles traveling up Highway 281 cough and grind louder around the road's curves. Hound dogs across the road bellow and yap, sounding closer than ever. Overpowering these sounds are great convoys of birds, soaring with swells of chirps and calls. All of our old friends are returning to the bird feeders. Small woodpeckers, chickadees, titmouses and nuthatches. They fight for their place on the feeders, in a feeding frenzy after the long journey south. Loudest of all is the echoing sound of chainsaws and my husband Jerry's ax as he chops wood for our wood stoves. The wood keeps our yurts cozy during the slow winter months.

The smells of the forest start to change from the damp mossy scent of summer to a crisp smoky aroma nice enough to breathe deeply. All the life in the forest needs the new energy from the cooler breezes to prepare for winter. Rows of small tunnels begin to look like mouse condominiums in the road banks, while balls of leaves mixed with straw and pine needles become warm resting places for little creatures to sleep the winter away. Our cat Bandit suddenly seems much rounder as she adds more fur and fat to keep her warm. Now Jerry finds it hard to drag her out of his chair at night. During the spring and summer she's too busy outside chasing critters to come inside, but now she just yawns and covers her face with soft paws & a warm tall and sleeps.

Colorful spring & summer cottons are packed away and brown, black, deep red and royal blue wools are pulled out of storage. All the winter cloths are two sizes bigger to make room for Long Johns and extra thick socks. Our life style in the woods includes outside work and hiking during wintertime. It's the best time to accomplish projects like trail blazing, brush removal and building. To add fun to the work, our sled is ready to go for the first big snow.

Winter at Nature's Home can be hard. Frozen water pipes, loss of electricity and being snowed in for days makes life tough at times. We have made it through twenty winters and are all the wiser for it. Preparing for winter will help us through another one. The best is yet to come.

These stories and articles are copyrighted and may not be reproduced in any form electronically, digitally, printed matter or by any other means without written permission from the author, Doreyl Ammons Cain.
Copyright &copy Doreyl Ammons Cain 2016-2099