Welcome to Doreyl's
Backwoods Nature Blogging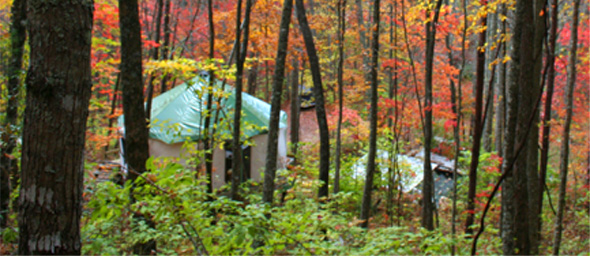 Memories of the Woods by Doreyl Ammons Cain
Whenever I think of holidays past, I remember the woods. Tramping through crunchy leaves sniffing the fall fresh air brings back happy feelings of times long past. Gold, red and burgundy leaves drift all around forecasting the cold white of snow. It's a time to revel in the season yet plan for the ice of winter... bittersweet.

Songmakers, writers and artists try to capture this rich and potent time of year, and all the while, the woods already have 'it.' Remember the words from the song- Over the river and through the woods to Grandmother's house we go... The woods give us a sense of adventure. What joy comes when we find a trail through the woods. We know it leads somewhere and we'll find the place if we just keep walking. Like "Somewhere over the Rainbow," we'll make it to that magical destination where all our dreams come true. As long as we're on the trail we have hope.

As a child many times I would be disappointed. My desires seemed so important then, especially around Christmas time. The excitement sizzled among my sister, Amy and my brother David and I as Christmas approached. Most of the time we didn't receive what we hoped for, and somehow we learned to accept this sorrow. Even so, those sad times became etched deeply into my memories. On the other side of these experiences rested the pure love of living in the woods. Our Christmas tree came fresh into our small home from our own forest. We gathered decorations from limbs of trees outside to trim our tree, like vacated bird's nests, the blue broken shells of robin's eggs, red holly berries and mistletoe. We followed our father into the snow covered coves looking for quail or wild turkey for our holiday feast.

Upon growing older I still hold these memories of the woods dear, so dear that I returned to the woods twenty years ago to remake my home in the woods. Both my husband and I enjoy spending our holidays on our nature preserve. Our Thanksgiving and Christmas turkey is cooked outside, our decorations are pine cones, evergreen branches and mistletoe. Our Christmas tree is sometimes outside as well, shimmering with colorful lights.

We walk our hiking trails as much as we can, for as long as we're on a trail, we have hope. There's usually enough snow for sleighing down Nature's Home Mountain and a wood stove to keep us warm. Someday I'll write a story about "it."

These stories and articles are copyrighted and may not be reproduced in any form electronically, digitally, printed matter or by any other means without written permission from the author, Doreyl Ammons Cain.